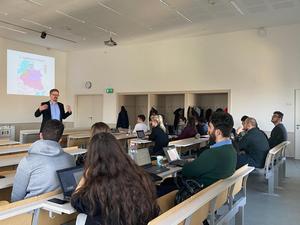 During his one-month stay at the UPS, Prof Dr hab Jarosław Jańczak, who has been working as an associate professor at the Department of International Relations at the Faculty of Political Science and Journalism at Adam Mickiewicz University in Poznań, Poland, and also at the Department of European Studies at the Faculty of Social and Cultural Sciences at the European University Viadrina in Frankfurt an der Oder, Germany, since 2016, held an event about Polish foreign policy and gave the lecture audience a deeper insight into the subject matter with his expertise.
The following event was held on his last day, a few hours before his departure, which says a lot about his love and passion for passing on knowledge.
He gave a historical review of Poland's history and development, with the continuous changes in geographical location and the different concepts of the country, as well as its position in political debates as a protector and link between the West and the East. In this context, he explained the ethnic, political and historical identity of Polish citizens. Furthermore, he described in detail the individual relations between Poland and the powers such as Germany, Russia, the entire East as well as the USA and how individual tragic factors such as the Second World War, the Katyn massacre, which was carried out by Soviets, had an impact here. The Iraq war also had an impact on cooperation and the current state of affairs. He did not shy away from addressing Poland's problems and maintained an honest approach to the laudation.
He conducted the lecture with anecdotes and with constant involvement of the audience, making the lecture very interactive and exciting. The class participated enthusiastically in the lecture and had the opportunity to ask further questions in a question and answer session at the end, which was also used with active participation. Mr Jańczak answered them confidently and finally said goodbye to thunderous applause from the audience.
We would like to thank Prof Dr Hab. Jańczak for his commitment and time at the UPS and wish him all the best for the future!