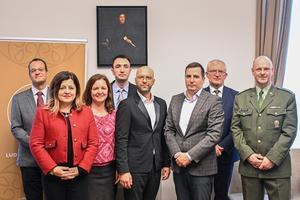 On the initiative of the Rector, the Department of Regional Cooperation (REO) of the Rector's Advisory Office began the planning and development of the professional concept of the Ludovika Scholars programme in spring this year. Our aim was to invite outstanding guest lecturers of international renown to the University for a week-long intensive professional and networking programme. One of the most distinctive features of the Ludovika Scholars Programme (LSP) is that it is open only to citizens of the twenty-two countries that make up the target region of the Department of Regional Cooperation (the V4, the Baltic, South-East Europe and the Caucasus region). One of the key elements of the concept is to strengthen regional cooperation, and a programme like this is a very effective way of promoting such international cooperation.
The first call for proposals was launched in mid-summer. During the application period, till the end of August, we registered an over-subscription, resulting in a more than 17 times higher number of applications as offered placed. We were pleased to see that a significant proportion of the almost ninety applications were of a high standard.
We welcomed five scholars with outstanding careers in the fields of science identified by the faculties and the Eötvös József Research Centre on the Baja and Budapest campuses between 24 and 30 October 2022. The international guests came from Bosnia and Hercegovina, Bulgaria, Czech Republic, Croatia and Romania. They all delivered their public lectures and workshops in a highly professional level.
Based on the experience of the first round of applications, the concept has been successful and we hope to continue with the Ludovika Scholarship Programme also in the future.
Text: Rector's Advisory Office,Department of Regional Cooperation