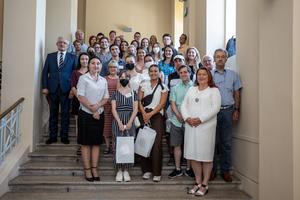 Human Rights Workshop at the University of Public Service
(Budapest, August 4th, 2022)
On August 4, 2022 the Rector's Advisory Office - Department of Regional Cooperation of the University of the Public Service (UPS) hosted a Human Rights Workshop organised by the Hungarian Human Rights Foundation (HHRF) for this year's ReConnect Hungary participants.
ReConnect Hungary is a cultural, educational and social immersion program for young adults from North America who are of Hungarian heritage. Every summer, a group of young Hungarian-Americans/Canadians begin a two-week journey to Hungary and the surrounding region to learn about their roots—culture, traditions and history.
An integral part of the Reconnect program is a one-day human rights workshop to acquaint participants with the history and current situation of Hungarian national minorities.
This year's workshop was held on the Budapest campus of UPS. Zsolt Szekeres, President of HHRF and Iván Gyurcsík, Rector's Adviser for Regional Cooperation welcomed the participants. Prof. András Ludányi delivered a video message about the past and present of the series of the HHRF Human Rights Workshops. Ferenc Kalmár, Ministerial Commissioner for Neighbourhood Policy of Hungary, outlined the progress of minority rights in the Carpathian Basin since Hungary's EU membership. Natália Váradi, university lecturer, described the history of Subcarpathia between1944-1989; and Andrea Bocskor, Member of the European Parliament, shared her views on challenges and opportunities in the region. Balázs Tárnok, Director of the Europe Strategy Research Institute of UPS, highlighted the special case of Slovakia and the Beneš Decrees. Imola Vass, MA Student in international relations, introduced other European models for minority autonomy. Petra Kovács, Program Manager of HHRF, described lobbying techniques available to ordinary U.S. citizens.
Finally, a roundtable discussion gave participants the chance to ask questions and debate these issues with presenters and Emese Latkóczy, Executive Director of HHRF.
HHRF, founded in 1976 in New York, is a private, independent, not-for-profit organization which operates from its New York headquarters and maintains offices in Budapest and Kolozsvár (Cluj-Napoca). HHRF's major activities are documenting and reporting on the human rights conditions of Hungarian national minority communities; providing in-depth analyses for decision makers and expert testimony before the U.S. Congress and international forums; facilitating meetings for representatives of Hungarian minority communities in the U.S.; and implementing youth-focused initiatives such as human rights advocacy, internship opportunities, and the "Reconnect" family of programs.
Photo: Bocskor László
Text: Galambos Judit