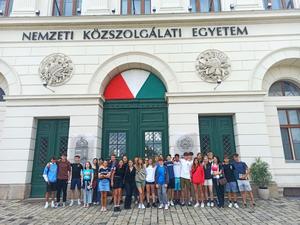 Rákóczi Association diaspora delegation visit at UPS
The International Office welcomed the delegation of the Diaspora Program organized by the Rákóczi Association at the University of Public Service on 31st July, 2022.
The Rákóczi Association's Dispora Programme - upon the initiative of the Hungarian Diaspora Council and with support from the Government of Hungary - welcomed young Hungarians from across the world to acquaint participants with Hungarian traditions and provide professional training and introduce opportunities for the participants.
At the meeting, Éva DUDÁS presented the activities and international relations of the university, with special attention to the Stipendium Hungaricum and Diaspora Scholarship. This was followed by detailed campus tour of the university led by Panna VÁNYI.
During the visit, the students showed interest in the campus and available programmes of the university and hopefully we will welcome them back as full-time students of the university.
Text: Éva Dudás
Photo: Panna Ványi