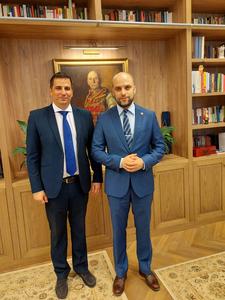 Rector Dr. Gergely Deli met H.E. Mr. Sebastian Kęciek Ambassador of Poland in Budapest on 5th of July, 2022.
The most important goal of the meeting was to review the already existing and diverse Polish relations – including several Memorandum of Understandings - of the Public Service University and to revive and further develop them in the post-COVID period. Mr. Rector and Mr. Ambassador agreed that in the changing European foreign and security policy environment, the further development of the bilateral scientific-cultural, economic and civil connections between our countries are extremely important.
The Rector explained the unique structure of the university, the priority of "internationalization", the most important Polish relations of the faculties and institutes, and confirmed their further support. At the same time he drew the ambassador's attention to the new Ludovica Scholars' one-week guest lecturer, researcher, and expert program starting in the fall of 2022.
The Rector invited Ambassador Sebastian Kęciek to give a lecture at the University during the 2022 autumn semester as part of the Ambassadors Forum.