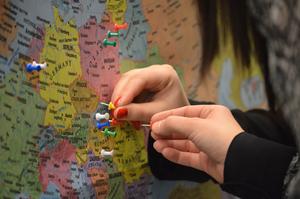 Tempus Public Foundation / Hungarian National CEEPUS Office offers CEEPUS Freemover mobility scholarships for incoming university students and teachers from CEEPUS member countries in the winter semester (1 September 2022 – 31 January 2023) of the Academic Year 2022/2023.
Applications are accepted only from the CEEPUS member countries: Albania, Austria, Bosnia and Herzegovina, Bulgaria, Croatia, the Czech Republic, Kosovo, Moldova, Montenegro, North Macedonia, Poland, Romania, Serbia, Slovakia and Slovenia.
Applicants with Hungarian citizenship or Hungarian place of residence cannot be considered.
Application deadline: 30 November 2022.
Tempus Public Foundation/CEEPUS Hungary
Phone: +36 1 237 1300
Fax: +36 1 239 1329
Email: ceepus@tpf.hu
Postal Address: 1438 Budapest 70. PO BOX. 508.
Program Coordinators: Kamocsa Gábor, Csernyus Aliz
UPS International Office
Address: 1089 Budapest Ludovika tér 2.
Phone: +36 1 432 9000/29757
Email: international.exchange@uni-nke.hu