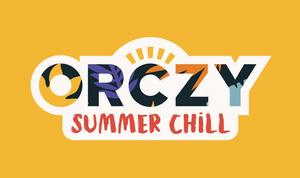 Garden cinema, lots and lots of music in all genres, comfortable picnic between pillows, recharge in nature, all for free and in an easily accessible location - from June to the end of September, the Orczy Summer Chill awaits everyone in the magical park of the University of Public Service.
The motto of the Orczy Summer Chill gives a great summary of what the event has to offer: "Escape from the city and its noise, have fun and spend 33 summer evenings on the shores of Lake Orczy!" Popular programs from a wide range of musical genres will provide an unforgettable experience at the event: acoustic pop, soul and jazz, as well as classical music. As the opening attraction of the event, 20-23 of June, the former member of "Generál" and "Piramis", Sándor Révész, will give a concert with two guitarists and singers, Ákos Horváth and Gergő Nagy, in his program "Private of Rock and Roll". On the 21st, the Men Choir of the Hungarian Defence Forces will provide entertainment, while on the 22nd, Herbie Hancock's student Árpád Tzumo will arrive. The Garden Cinema series will start on the 23rd, with the film "Csinibaba" for the first time, which was originally shot in the Orczy Garden. "Liliomfi", "Macskafogó", and "Hyppolit" will also be shown in cinemas for the next few weeks, while for "Kincsem", "Liza a rókatündér", and "Moszkva tér" will be on screen with English Sub-titles.
The musical programs include the Tóth Vera Quartet, the Sárik Péter Trio, but also Iván Kamarás, Róbert Szakcsi Lakatos and Barna Pély, Ági Szalóky, and the Budapest Ragtime Band promises an unforgettable evening.
It is important to note that during the festival, the park is open until 11 pm instead of 10 pm. Concerts start at 8:30 pm and movies start at 8:45 pm, except for the September programs. On weekdays, parking is free until 18:00 on the streets around the NKE Ludovika Campus and Orczy Park, on weekends it is free without any limitations. The organizers recommend accessing the Orczy Summer Chill by public transport: from the Nyugati railway station, Deák tér, Népliget by the M3 metro, from the Keleti railway station by the tram number 24, landing at the Nagyvárad tér stop. Due to the metro renovation on Saturday, the M3 metro trains will not run and will be replaced by replacement buses. More information can be found on the bkk.hu website. During the program a buffet will operate on Campus (Lakeside Terrace) and a picnic package can be rented (Picnic Point), for those interested can get a pillow and a blanket for a deposit.
Instagram and Facebook of the event:
https://www.facebook.com/orczysummerchill
https://www.instagram.com/orczysummerchill/
Programmes:
Text: Tibor Tasi (translation: Levente Szántó)