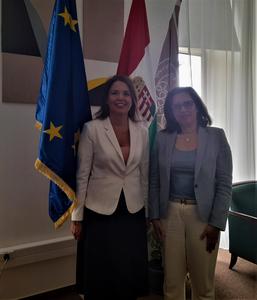 On 15 June 2022, Boglárka Koller, vice-rector for international affairs, welcomed H.E. Karima Kabbaj, Ambassador of the Kingdom of Morocco to Hungary. The meeting aimed to raise diplomatic relations between the two countries to an academic level.
During the meeting, vice-rector Koller gave her guest a detailed presentation of the faculties and the educational activities of the University of Public Service (UPS). Together, they looked for possible links and potential Moroccan partner universities with which UPS may cooperate in the future in the field of student and staff mobility.
The Ambassador herself studied in Morocco at a university with a similar profile to the one of the UPS. The mission of her alma mater is the same as that of the UPS: to train a new generation of civil servants who can become exemplary and committed public servants, influential public leaders, true "vectors/accelerators" of the reforms and "ambassadors of the values of public service". In this context, the Faculty of Public Governance and International Studies might be a prime destination for Moroccan scholarship students. In parallel, however, the English language courses in water diplomacy, water science and sustainable development offered by the Faculty of Water Sciences could also be of considerable interest to students from many of Morocco's universities of sciences.
H.E. Karima Kabbaj confirmed that the Kingdom of Morocco is keen on developing scientific cooperation with its partner countries. Therefore, the Moroccan Ministry of Foreign Affairs has decided to offer 15 scholarships to Hungarian citizens. The call for applications provides the opportunity to study at Moroccan public higher education or professional institutions in the academic year 2022/2023. In addition to the Moroccan Ministry of Foreign Affairs' offer, the Erasmus and Fellowship programmes can also facilitate cooperation between universities in the two countries.
The vice-rector and the Ambassador agreed that the development of relations between Morocco and the UPS could be strengthened by the organisation of joint events in addition to mobility programmes. H.E. Karima Kabbaj suggested a prominent, world-renowned Moroccan researcher who could give a major lecture at UPS, organised by the Embassy. The event could take place in the autumn semester.
Text and photo: Annamária Kitta