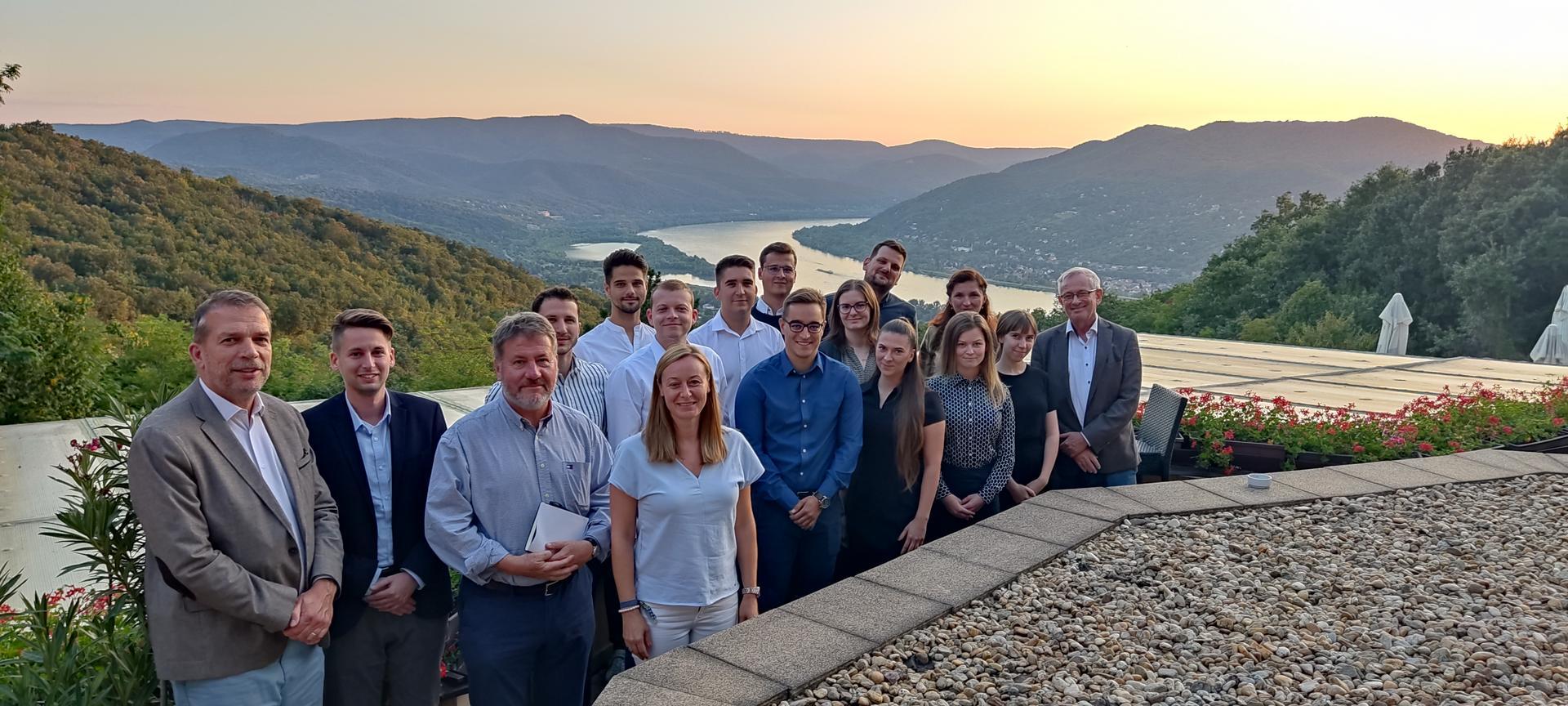 3rd to 5th September 2021. a training launch conference and workshop preceded the training of the second year of the Europe of Nations Career Program, which starts on the 6th of September and into which 19 people were accepted in the 2021-2022 academic year after a successful exam.
At the opening of the training launch program in Visegrád, Gergely Prőhle program director emphasized, that in the period of the Hungarian V4 presidency the venue of the weekend had a particularly important, symbolic message and added value for the participants of the Europe of Nations Career Program in terms of the significance EU national advocacy. On the first day of the program, MEP Enikő Győri spoke to the participants about the current situation of the European Union and Hungary's EU membership. András Koltay, Rector of the University of Public Service, gave a presentation about the relationship between European public and European politics, media regulation and freedom of expression.
Participants of the Europe of Nations Career Program's new class measured their skills in an EU quiz after the introductory warm-up games during the second day of orientation training and workshops, then they developed the "Grade Charter" they wanted to represent during the school year. Based on the tradition of stump speeches and secret ballot - they chose the former president Ferenc Mádl as their eponym.
Saturday was closed by a presentation by Péter Gottfried, a member of the MNB's Monetary Council and former Prime Minister's Chief Adviser to the European Union, who spoke about the challenges faced by our common Europe, their causes, background and possible directions for EU development. He emphasized, that one of the reasons for the EU's internal tensions was that an appropriate strategy had not yet been put in place to deal with the increased diversity resulting from the large-scale expansion of the EU in 2004. Conflicts over the rule of law and the treatment of European values ​​can also be traced back to the fact that this particular topic appeared at top of the EU agenda without a universally accepted catalog, which would exclude the issue of double standard. He emphasized that the resolution is not to leave the EU due to the effects of these issues, but to solve these issues instead.
During the weekend, the participants of the program were able to meet and talk with Boglárka Bólya, the Deputy State Secretary for EU Relations of the Ministry of Justice, Gábor Zupkó, the Head of the European Commission Representation in Hungary, and the representatives of the first-year Alumni.
Overall, the training launch weekend achieved its goal, since as a result of the training launch conference and workshop, participants in the second year of the Europe of Nations Career Program are able to begin their two-semester training as a collaborative team with sufficient professional impulse.