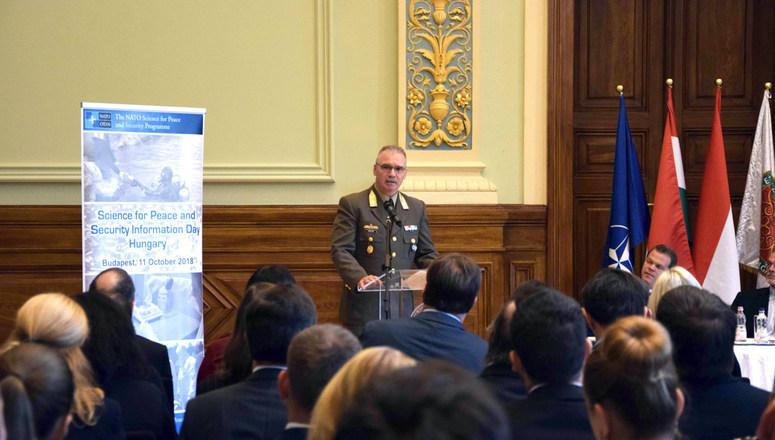 Hungary is currently leading an SPS project in the area of chemical, biological, radiological and nuclear (CBRN) defence. The multi-year initiative aims to develop a cutting-edge sensor to detect bio-toxins, including in water and food. A number of young scientists, including from Ukraine, are contributing to the research effort, also helping them to kick-start their career.
The country also helped build capacity in NATO partner countries Iraq and Jordan in countering improvised explosive devices through the provision of training and equipment to their armed forces.
At the SPS Information Day, Hungary and NATO exchanged ideas for potential future research and capacity-building cooperation on security-related topics, such as cyber defence, counter-terrorism, border security, as well as on environmental issues.
"The ever-increasing number of challenges faced by the Alliance requires closer cooperation with partner countries," said Dr Péter Sztáray, State Secretary for Security Policy at the Ministry of Foreign Affairs and Trade of Hungary, at the event. "Hopefully, thanks to the Information Day, Hungarian researchers and experts will be involved in more research projects in the future, which will strengthen our region's security," he added.
Dr Antonio Missiroli, NATO Assistant Secretary General for Emerging Security Challenges, concluded in stating, "The SPS Programme is one of NATO's most valuable partnership tools. Science, after all, is not just about experiments. It is about collaboration and partnership."
The SPS Information Day was organised in cooperation with the Hungarian Delegation to NATO, the National University of Public Service in Budapest and the Ministry of Foreign Affairs and Trade of Hungary.