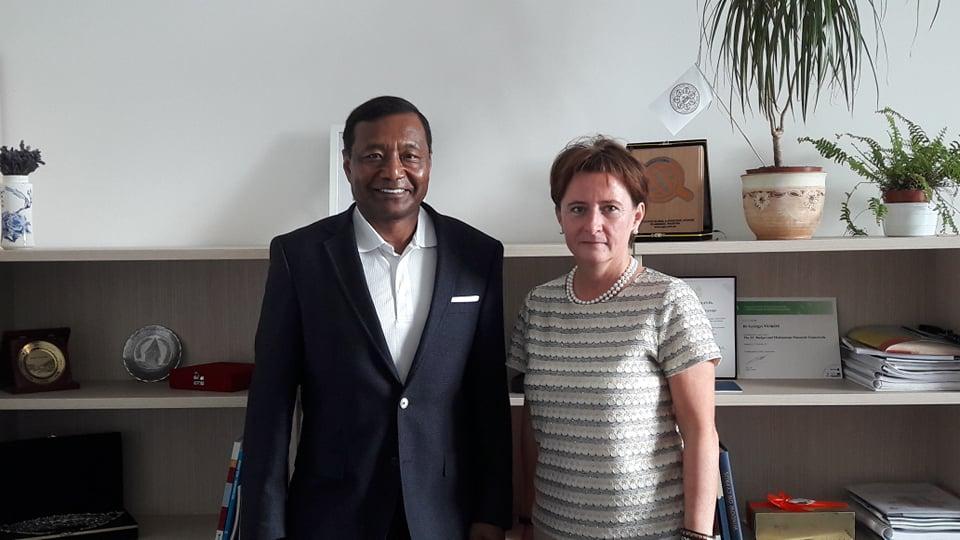 On 25 May 2018, Ret. Lt. Gen. US Army Thomas P. Bostick visited the National University of Public Service. Lt. Gen. Bostick is an expert in environmental sustainability and he arrived to NUPS as a presenter on the university's Climatters 2018 Sustainability Day conference.
Lt. Gen. Bostick graduated from United States Military Academy with a Bachelor of Science degree, then he received a Master of Science degree in both mechanical engineering and civil engineering from Stanford University. He acquired his PhD degree in Systems Engineering from George Washington University. Until 2017 he served as the 53rd U.S. Army Chief of Engineers and the Commanding General of the U.S. Army Corps of Engineers (USACE). In this position he oversaw the federal water management. He has been Chief Operating Officer of Intrexon Corporation since his retirement in 2017. The last time the Lieutenant General came to Hungary was in 2016 when during his official visit he met, among others, the President of Hungary János Áder, the Minister of Defence and the Minister of Interior.
Lt. Gen. Bostick was welcomed at NUPS by Dr. habil. Györgyi Nyikos, Vice-Dean for Science and International Affairs and by col. Dr. Zoltán Jobbágy, Vice-Dean for Science and International Affairs at the Faculty of Military Sciences and Officer Training. On behalf of the university leadership, the Vice-Rector expressed her gratitude for welcoming the high-ranking guest at NUPS and she briefly described the university structure to the Lieutenant General. During the meeting, Györgyi Nyikos talked about the Governing Board and the Senate, then she highlighted the joint module created as an integrated educational platform and the Joint Public Service Exercise as a good example to practice disaster management and cooperation between service branches.
Lt. Gen. Bostick was delighted to visit NUPS because he finds it interesting to see the cooperation between the Faculties of the university and the details of the cooperation between the university and the government. He said that in the United States in case of flood, many different governmental organisations - having their own separate budget - worked together in disaster relief operations and sometimes the communication between them was not always efficient. He was pleased with the Hungarian cooperation methods and he beleives this can serve as a good example for the United States. At the end of the meeting the parties discussed the most popular courses offered by NUPS, the career path of the chosen professions and the scientific and professional work at each Faculty.