Signal Department
Head of Department: Lt. Col. Károly Fekete, PhD, Associate Professor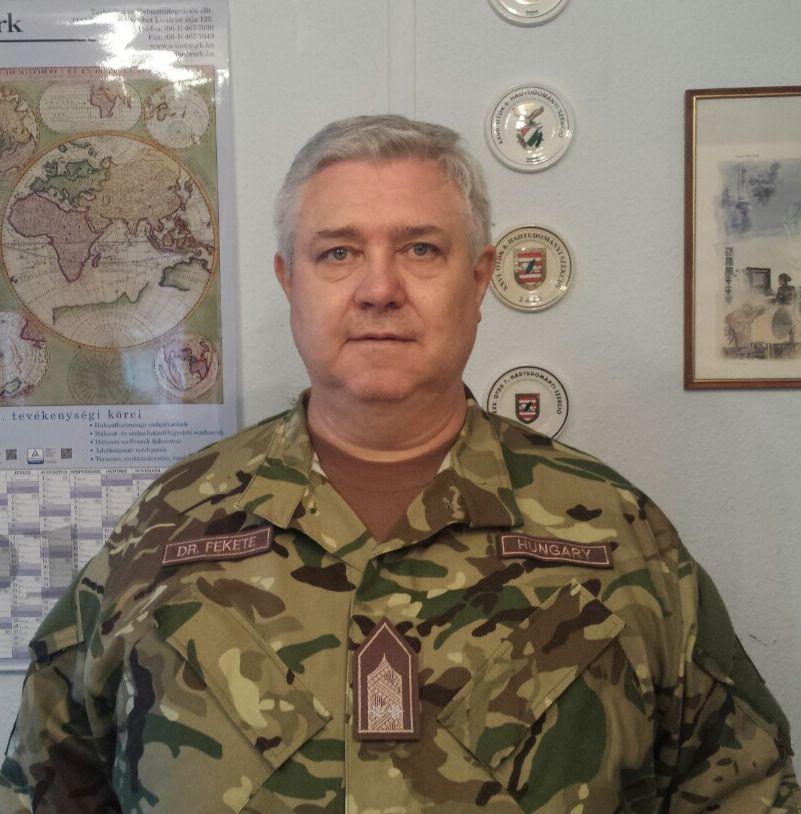 Karoly Fekete graduated as signal officer at the Zalka Máté Military Technical College, Budapest, Hungary in 1982. He received master degree from S. M. Bugyennij Military Signal Academy St-Peterburg, Russia in 1989 and PhD degree from National Defence University, Budapest, Hungary in 2003, all in military signal engineering. The diplomas awarded are distinguished, honors and "summa cum laude". In 2005 he won the Bolyai János Research Scholarship of Hungarian Academy of Sciences. He joined the Zrínyi Miklós National Defense University from 1995 and currently he is associate professor at the Signal Department of Ludovika - University of Public Service. He has served as the deputy dean of Faculty of Military Science and Officer Training short period and Head of Signal Department from 2010 to nowadays. He was Editor-in-Chief of the scientific journal of Bolyai Szemle. He has published more than 100 scientific publications and conference papers. His major research interest include military strategic infocommunications and he has a strong background in IP based communication.
From 2003 he is a member of public body of Hungarian Academy of Sciences. He is a chairman of University group of Scientific Association for Infocommunications of IEEE (Institute of Electrical and Electronics Engineers) and member of Hungarian Associations of Military Sciences from 1997 and 1998 respectively.Dr. Fekete has received many awards, including Master Teacher Gold Medal of Hungarian Academy of Sciences, Puskas Tivadar Awards and two Gold Medals of Scientific Association for Infocommunications of IEEE, Diplom for Outstanding Scientific Research of Bolyai research Scholarship of Hungarian Academy of Sciences and 9 Military Orders. He has two advanced language exams: military interpreter in Russian and STANAG 3.3.3.3 in English. He has 40 years of military practice, 25 years of higher education experience, 14 years of leadership, 5 years experiences within foreign working language environment, and he has 2 years experiences in military missions.
Contacts
About the Department
The Signal Department functions as a unique community, enabling a specific defence communications intellectual workshop to operate in the IT sector. It is not only a centre of military teaching and training on the area of military communications systems but also a determining research centre and scientific workshop of both national and regional significance – due to its intellectual potential and infrastructure.
The Department places special emphasis on maintaining its foreign relations, which include relations and cooperation with our Hungarian and foreign counterparts (e.g. France, Poland, Slovak Republic, Romania, Turkey, the USA in 2010 - 2019 respectively) at both formal and informal levels.
The students, teachers and researchers of the Signal Department participate in a number of scientific conferences (Hungary, Turkey, USA: Communications 2001-2019, Information Assurance), exercises and training (COMMIT 2003-2013 - France) and ERASMUS+ projects in Hungary and abroad (Poland, Slovak and Czech Republic, Romania, Kenya). Colleagues of the Department take part in different NATO and EUFOR events and missions. Participation in training and study tours is particularly advised as these occasions enable them to improve their professional skills and provide them with the opportunity to meet partners with different professional backgrounds within signalling.
The main areas of our research and publications are:
Military infocommunications systems at strategic, operational and tactical levels;
Interconnection and interoperability of defence, government and public CIS;
Communications in missions;
Information assurance, Cyber defence.