Department of International Security Studies
Department of International Security Studies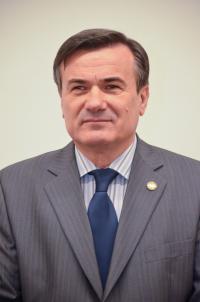 General (Ret.) Zoltán Szenes Dr. , Professor
Head of Department
Dr. Szenes is a graduate of the Russian Military Academy (MSc), the Budapest University of Economics (MSc, dr. univ) and the Royal College of Defence Studies (London). He is affiliated with education and research in military sciences since 1982. He served in various commanding and staff positions in the Hungarian Defence Forces and NATO (Brussels, Naples) and was the Chief of Defence Staff of HDF (2003-2005).
After retirement he dedicated his knowledge and expertise to educating future generations of military officers and public servants in the defence sector. He was Head of the Military Sciences Committee of the Hungarian Academy of Sciences (2008-2014). General Szenes is a member of various international military, professional associations and societies in the field of security and defence and is a visiting professor at the Baltic Defense College.
Contacts:
Office: H-1083 Budapest, Ludovika sqr. 2., Ludovika Main Building, Room 203
Phone: (36) 1 432 9000/ 20802
E-mail: Szenes.Zoltan@uni-nke.hu

The mission of the department is to offer education and training for current and prospective members of the security and defence sectors (the Hungarian Defence Forces, the Police, institutions of national security and members of the public administration) in Hungary in the field of international security and national defence policy. Based on a comprehensive approach to the international security studies discipline, members of the faculty address the military, political, societal, economic and environmental challenges to security in education. Thus our students acquire a thorough understanding of global and regional security issues, the functioning of international security institutions (primarily the United Nations, the European Union, NATO and OSCE), and systematically structured knowledge on military security, conflict analysis and crisis management.
Members of the department participate in education in all degree and certificate programs of the faculty with relevant courses, specifically focusing on the International Security and Defence Policy programs (both BA/BSc and MA/MSc levels) and more broadly in the International Public Management (BA/BSc), the International Public Service Relations (MA/MSc) and the English-language International Public Service Relations (MA) programmes, as well as in the one-semester long English-language international certificate programme, Academy of Diplomacy Budapest. Based on high-profile research activities our staff is also involved in education at the Doctoral School of Military Sciences of NUPS, in close cooperation with the Centre for Strategic and Defence Studies within the Faculty of International and European Studies.