Department of Aerospace Controller and Pilot Training
Dear Visitor,
Welcome to the Department of Aerospace Controller and Pilot Training!
Our Department offers for the future airspace controller officers (air traffic controller, air defense controller) modern and high-level training. Finishing their education they can manage aircraft through all aspects of their flight with the priority of safety using the standard national and international procedures and highly sophisticated radar and radio communication equipment to communicate advice, information, and instructions to pilots. On the other hand the Department provides high-level training for aircraft pilot officers (helicopter and aircraft pilots), too.
Nowadays, aerospace controller training is connected both of the Military Maintenance BSc (Military Air Traffic Control specialization) and State Aviation BSc degrees (Military Aerospace Control Officer specialization), but the aircraft pilot training is located inside the State Aviation BSc degree (State Aviation Pilot specialization), only. Of course, the Department has also different pieces of training in Military Maintenance MSc degree and Ph.D. training at Doctoral School of Military Sciences and Military Engineering, too.

In addition to their everyday teaching duties, the staff of the Department performs high-level scientific work. This scientific work covers numerous fields of aviation with the priority of aviation safety, of course. Our staff members participate in national and international forums and conferences; presenting their scientific results in different conference proceedings and scientific bulletins. Additionally, they prepare their talented students to make their first steps in scientific work, too.
The main fields of the Department's scientific and research activities are the followings:
air traffic flight safety questions;
aspects of the Air Force employments;
modern air navigation systems and procedures;
examination of aviation meteorology factors;
a complex examination of UAV flying;
air traffic controlling in mission operations;
analyses of airport safety questions;
pilots' professional activities in the relationship between physical performance testing and
the characteristics of the work of flight controllers' hypo kinaesthetic state.
At present, the staff of the Department works in a large R&D project supported by the European Regional Development Fund (GINOP 2.3.2-15-2016-00007, "Increasing and integrating the interdisciplinary scientific potential relating to aviation safety into the international research network at the National University of Public Service - VOLARE").
Head of Department: Maj. Zsolt Bottyán habil. PhD, Associate Professor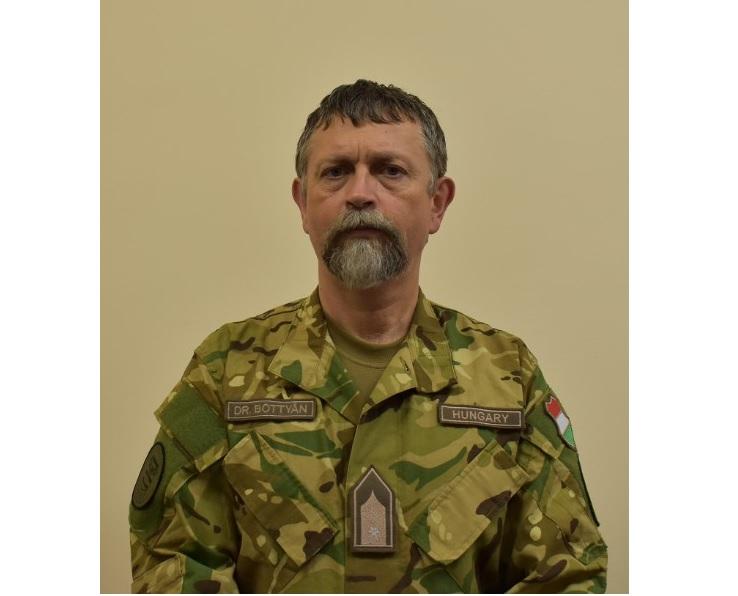 Major Dr. Bottyán studied at the József Attila University of Szeged (MSc degree of the teacher of mathematics, geography and computer science, 1988) and at the Eötvös Loránd University (MSc degree of a meteorologist, 2008). Between 2005 and 2009 he worked as an operational meteorologist officer at 86. Szolnok Helicopter Base. He received his Ph.D. degree (Earth Sciences) in 2008. From 2010 Major Dr. Bottyán works at Ludovika - University of Public Service as an associate professor. From 2015 he is the head of the Department of Aerospace Controller and Pilot Training. In 2018, he became a habilitated doctor at the National University of Public Service in the field of Military Technical Sciences. His main area of research is the study of meteorological issues and related to the use of unmanned aerial vehicles (UAVs) and its aviation safety questions.
Contacts:

Office: H-5008 Kilián út 1.Szolnok.
Phone: +36-56-505-100/7962; 02-43-7962 (HM)
E-mail: bottyan.zsolt@uni-nke.hu