Events and activities
International students are welcome to join and participate in all events organised by the University or its student body. Furthermore, there are also specific programmes organised for them, e.g. excursions within the country or to our neighbours.
Besides the annually organised events, there are various programme series that are organised several times a year. During the fall semester the Freshman Bal around November, the first Integration Party of the academic year, or the Sports Day in the beginning of the semester are the biggest events. The spring semester also offers opportunities for integration parties and specific events such as the Faculty Days.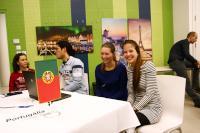 The International Office organises a Welcome Ceremony each semester to greet the new students and to give opportunity for them to meet their fellow students and their Hungarian mentors. Besides, the Erasmus Student Network organises numerous programmes throughout the year, including excursions, parties, quiz nights and a lot more.
The Erasmus+ Partner Expo organised by the International Office involves international students who can talk about their countries and sending institutions. Another typical international event is the Ludovika Ambassadors' Forum, a programme series with the participation of different ambassadors accredited to Budapest. During these events the invited ambassadors talk about specific issues regarding their country or their relationship to Hungary. The event is open for students as well.