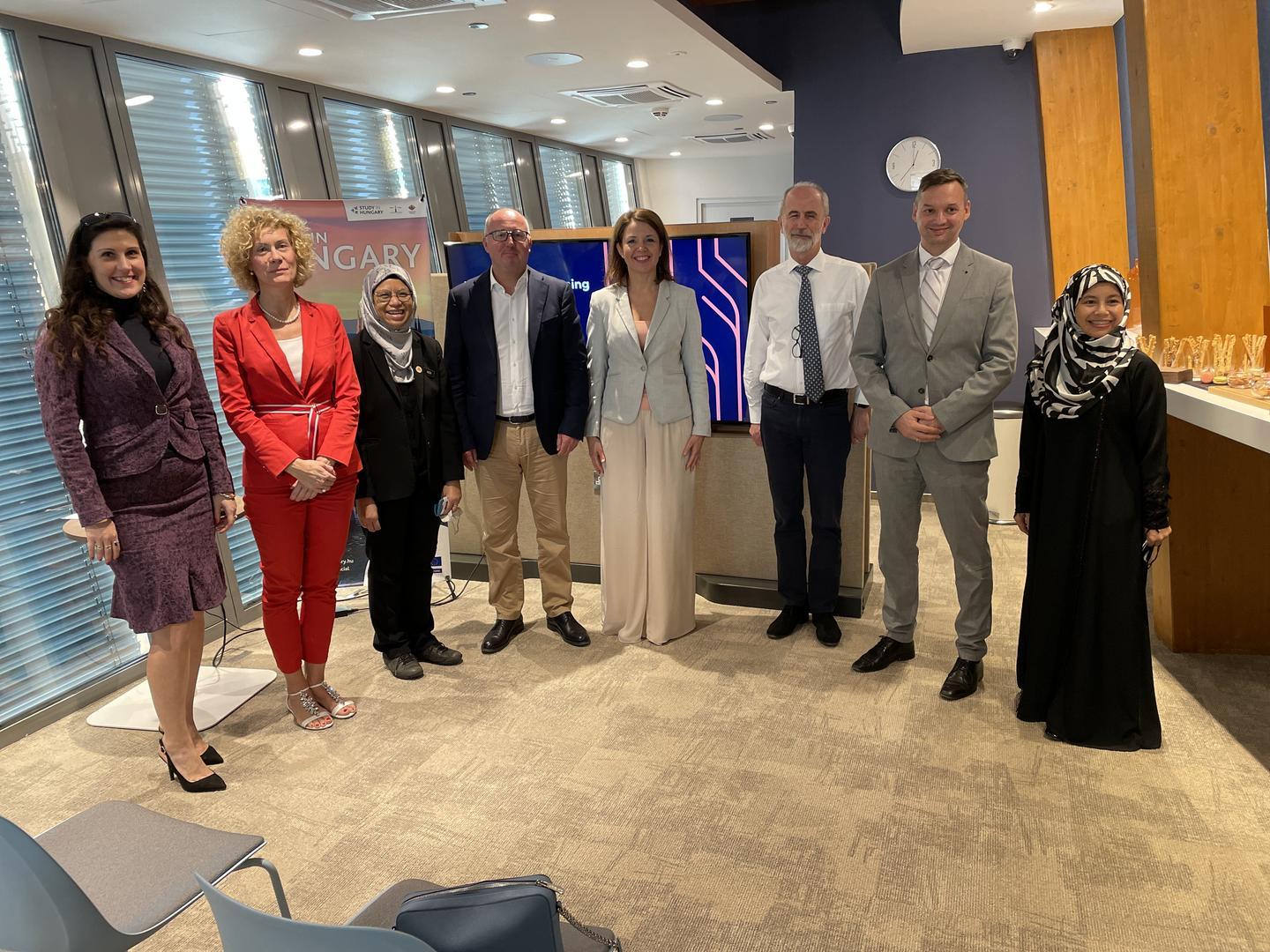 Representatives from several universities, including the University of Public Service (UPS), participated in the thematic week of Expo2020 Knowledge & Learning, representing the Hungarian Rectors' Conference.
Due to the pandemic, the World Expo is held with a one-year delay between 1 October 2021 and 31 March 2022 in Dubai. The theme of this year's expo is sustainability, mobility and seizing opportunities. The aim of the World Expo is twofold: to showcase the 192 participating countries through their national pavilions, and to provide an opportunity for national businesses and organisations to build their external economic relations and open up new markets through the thematic weeks.
A delegation from the Hungarian Rectors' Conference, including Boglárka Koller, Vice-Rector for International Affairs of UPS and Csaba Krasznay, Head of the Institute for Cyber Security at Eötvös József Research Center were invited to the Knowledge and Learning Week. The representatives of the universities sought to explore research and education collaborations that would enable Hungarian knowledge export and the marketisation of outstanding results in countries outside Europe.
On 12 December, Boglárka Kollerand Klára Breuer, International Director of the UPS, gave a presentation on women's equality and empowerment, and the following day the delegation was welcomed by Mohammad Abdullah, Head of Dubai International Academic City/Dubai Knowledge Park. It became clear how fierce the competition for students from the Middle East and South East Asia is among the world's higher education institutions, with hundreds of universities represented in the academic city, giving local students easy access to the educational portfolios of even the best British or American universities. The meeting was followed by a discussion with Hussain Mohamed Al Mahmoudi, Director of the Sardinia Innovation and Technology Park, and attended by Osama Naffa, Ambassador of Hungary. The park currently has 50 start-ups developing in areas of importance to local people, such as improving the efficiency of logistics services.
The final event of the programme was a series of presentations on universities in the Hungarian pavilion of the Expo, where guests from many countries were able to learn about the Hungarian university system, the various institutions, including the University of Public Service. Water played a special role at the Expo. The Hungarian pavilion, which was presented to the delegation by Ministerial Commissioner Szabolcs Tatár, was also part of this theme, where visitors could learn about Hungary's thermal waters and water utilities.