Local Governments' Research Centre
Local Governments' Research Centre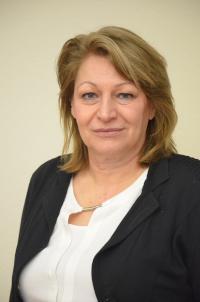 Emese Farkasné Dr. Gasparics, researcher
Head of Centre
She graduated as Master of Law at the Faculty of Law, Eötvös Loránd University in 1980. Later she took her bar exams in 1982. Besides her law diploma she became qualified legal expert on the fields of international trade and trademark protection and also obtained a degree in economics. Based on her previous studies she worked as legal consultant at her field of expertise and for some years also worked as practicing lawyer. In 2010-2011 she was Head of the Secretary in the State Secretary Office responsible for Economic Policy in the Ministry of National Development. From 2011 she works as State Secretary responsible for Local Governance in the Ministry of Interior.
Contact:
Office: H-1118 Budapest, Ménesi út 5. 5. floor 512. room
Phone: +36(1)432-9000/ 20-268
Email: farkasne.gasparics.emese@uni-nke.hu



The centre started its activity from February 1, 2016 under the umbrella of the restructured and transformed Faculty of Political Sciences and Public Administration. Its structure is under development. According to the approved plans it would have five regular employees led by a scientific and an executive director. Beside the regular employees about seventy experts of the local governments are going to be connected to the research centre to create strategy, prognostics and background studies, to organize conferences, to establish PhD scholarships and to cooperate with other institutions and universities.
The centre's main aim is to provide conditions and opportunity to the creation of the so-called "entrepreneur university" and to serve the realisation of the good-governance, of sustainable local governments, the development of both organizational and personal innovative competences of public utilities, to promote strategic functioning of the local governments by the realisation the service-oriented public service. For the fulfilment of the above mentioned aims the research centre conducts research based on governmental priorities, is responsible for the execution of the project financed applied research activities, takes part in the development of the different education programmes of the National University of Public Service, creates teaching materials and disseminates its research results in the practice and serves as a "think tank" of best practices.