Institute of Public Management and Administration
Institute of Public Management and Administration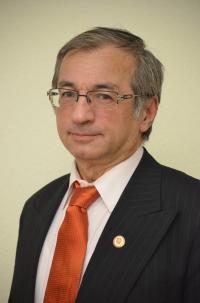 Dr. univ. habil. István Tózsa, university professor
Head of the Institute
Professor Tózsa graduated as a teacher of geography and English grammar and literature at the University of Szeged. As a researcher at the Geographical Research Institute of the Hungarian Academy of Sciences, his field of expertise included the digital analysis of satellite images, and environmental application of GIS (1980 – 1998).
At the Public Administration School and at the Corvinus University of Budapest he headed the Department for Public Management and Urban Studies and established a school for e-government development and application (1999-2012). He headed the Department of Economic Geography and the Institute of Environmental Sciences at the Corvinus University of Budapest (2010-2016).

Contact:
Office: H-1083 Budapest, Üllői út 82., Educational Building, Office 348.
Phone: +36 (1) 432-9000/20189
E-mail: Tozsa.Istvan@uni-nke.hu
The Institute is responsible for the education of subjects beyond administrative law, incorporating aspects of leadership and management, regional administration, communication and media. The profile of the Institute is versatile focusing on public management, civil service management, communication and urban, regional, geostrategic studies related to administration. In addition to the above-mentioned aspects, operation of and services provided by local governments also appear on the agenda of the Institute. The Institute takes part in the research and teaching material development of the Local Government Research Institute in cooperation with the Institute of Professional Administration and Policy which is responsible for local governance education as well.
The common segments in the educational and research portfolio of the Institute that outline the definition and position of 'administration' are:
1. Structural development of public administration institutions;
Customer service workflow modernization
2. Public web-portalogy;
Communication of the local governments
3. Local and regional planning, master planning;
Strategy making;
Local service development
4. Local and regional development;
Local economic development;
Urban and regional marketing;
Local community building;
Inclusive local governance
Our institutional transformation enables us to restructure and develop our educational and research portfolio focusing on the common segments of the three disciplines (leadership-management, communication-media and regional studies) thus defining the nature of 'administrative studies.' Accordingly, it can be part of the newly introduced undivided and joint 5 year training in political sciences.
This portfolio also supports our scientific research activity. Our public administration methodological subjects are also under development and our Ph.D. students are involved in the training as well. All our subjects are related to other subjects of the curriculum like Economics, Procedural Law, Civil Law and studies concerning public management and operation.