Department of International Relations and Diplomacy
Department of International Relations and Diplomacy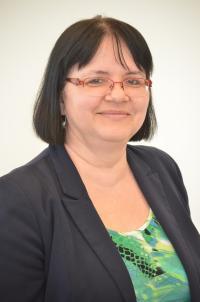 Dr. Erzsébet Rózsa Nagyné PhD, Associate Professor
Head of Department
Dr. N. Rózsa has been lecturing, conducting research and commenting in the media in Hungary and abroad on a wide variety of subjects related both to the Middle East, and WMD arms control and non-proliferation. Dr. N. Rózsa holds degrees in Semitic and Arabic Philology, and Iranian Studies as well as a PhD in International Relations. She has an extensive research network related to her fields of research, and she has been a guest lecturer at various universities in Hungary and abroad. She has been a member in several academic organizations, including the Committee of International and Development Studies of the Hungarian Academy of Sciences (she is the Secretary of the Committee), and the Steering Committee of EuroMeSCo, the network of some 100 research institutions in Europe and the Mediterranean.
Contacts:
Office: H-1083 Budapest, Ludovika sqr. 2., Ludovika Main Building Room 205.
Phone: (36) 1 432 9000/ 20807
E-mail: Nagyne.Rozsa.Erzsebet@uni-nke.hu
The mission of the department is to educate and train highly skilled professionals able to pursue a career in those institutions of public administration and foreign services that are connected to managing the foreign relations of Hungary in general and within international and EU institutions in particular. The department provides modern education and skill-based training at the faculty in the field of international relations in a multidisciplinary approach.
In order to facilitate the effective first-hand transfer of experience-based knowledge and diplomatic skills, members of the department include practitioners from the foreign services diplomatic staff, international relations experts and researchers as well. The portfolio of the department includes courses on the theory and history of international relations, regional studies, European integration, civilization and diplomatic studies within all Bachelor (BA /BSc) and Master (MA /MSc) programs of the Faculty of International and European Studies, as well as in the one-semester long English-language international certificate program, Academy of Diplomacy Budapest.
The curricula offered by the Department of International Relations and Diplomacy within these programs, as well as applied research conducted by staff members, focus on the current agenda of international organizations and institutions, issues of foreign and security policy, state building, political violence, etc in a problem-oriented, practice-based manner. The department identifies itself as a multidisciplinary educational and research centre that continuously deals with the theoretical and practical problems on the agenda of the international community.